Date:
From: Marlon Sanders
Dear Friend,
Hello,
At last, you can craft 100% customized, potent, targeted sales letters just by filling-in-the-blanks and clicking a button.

You get a sales letter nicely formatted on a web page when you're finished. Just polish it up some, link it to your order form and you're off and running.

Almost no one puts true sales letters on their web sites. It beats the heck out of me.

Instead, they try to follow the marketing examples of dot com companies posting brochure sites (mainly images with very little sales copy) that are going bankrupt by the barrel full.

I say to you that if you want to make a healthy profit from your web site, you need to put a sales letter on it. Why?

Because people have been selling products via direct mail sales letters for over 100 years. It's a tested, proven formula that works. The main changes in the last 100 years is that now you post the sales letter to your web site instead of printing and mailing it.

And, of course, there are differences in how you structure the letter since it's online versus being printed.
But the principle remains the same:

If you want to sell online, you need to craft a targeted letter with a powerful offer and post it on a web page.
In short, you use the same formula that has been selling billions of dollars through the mail for the last 100 years.

Over the years I've been selling online, myself, my friends and my customers have jointly made millions in sales using this formula. It really, really works.
By the way, you can get more information on my credentials and background by clicking here.
Why I created Push Button Letters
and how it'll help YOU sell more products
Time after time I found that even though I present a very simple step-by-step system for creating killer sales copy, it seems like people have trouble following it.
I taught thousands of people my formula for writing sales copy, yet no-one seemed to follow the formula as I presented it.

I can't explain it. I don't know why.

For example, someone would send me a sample sales letter they supposedly wrote using my formula. But it wouldn't have a "how to..." headline. Or an "if you then" opening. It wouldn't have bullets. Or if it did have bullets then there weren't enough.

In short, I could hardly see a resemblance between my formula and the letters many people generated.

So I decided to create a software program that literally FORCES you to craft a killer sales letter that has every element of my formula.
All you do is click a button and fill in the blanks when prompted.
All you do is fill in the blanks!
If you can fill in the blanks, you can use this software.

Now listen up. I have a friend who sells template letters. Those are terrific. But Push Button Letters is totally unique and different.
First, it is an actual software program you use, not just sample letters that you revise.

Second, it takes you by the hand and walks you through my psychological formula step-by-step with fill-in-the-blank forms and drop down boxes.
In addition, you'll find helpful tips and examples with each step, so you're never stuck wondering what to write.

Third, it is 100% customized to the exact needs of YOUR business. You aren't trying to fit a square peg into a round hole intended for another business.
Fourth, when you get the software, it's yours to use forever. You pay NO ongoing monthly fees to continue using it. Write 1 or 100 sales letters. There are NO limits!

Nothing could be easier...

When you're finished writing you have the option to follow the step by step instructions in the DESIGN AREA where you choose the fonts for your headline, sub headline and main text. You're also given the option to add a background to your web page along with the "order now" buttons, "satisfaction guaranteed" images and other graphic elements of the page.
Once you're finished designing the letter you will be prompted to save it to your hard drive. From there it's a click away from being posted online.
The sales letter is merged into a web page that you can post on your web site in under 1 minute and begin making sales with right away.

Of course I do want to make sure you realize that the expression "garbage in-garbage out" applies to this program. The output will only be as good as your input.

You may need to TWEAK the final output by adding a paragraph break here and there and may want to add additional information, sentence transitions and so forth to make your letter flow smoothly.

Please Note: We do NOT offer free critiques or support. We charge $1,000 per hour to critique and tweak sales letters. Although we'd like to, we simply don't have the available time to look at your letter and evaluate it. I want you to know that right upfront.

The objective of the software is to create a letter that has all the crucial elements of my formula. Of course, there is no substitute for the human brain and common sense. You are the one who will need to make your letter flow smoothly. You still have to THINK to obtain a great result.

What the software does is FORCE you to follow a psychological sequence that has proven extremely effective in our own sales letters.

You can theoretically do the same thing without the software.

But what I've found is that even though it's simple and logical, most people still don't do it. They need something like this that literally walks them through the formula step-by-step.

I'm really jazzed about it. I think, hope and believe it's going to greatly empower you to come up with your own sales letters that truly rock.
The profit you make from your letter
depends on these things in order:
Success Factor One: Your web traffic -- Is it high or low quality? The better the quality of your traffic, the higher your conversion rate of hits to sales. If you need help getting traffic to your web site, see our product The Amazing Formula.

Success Factor Two: Your offer -- what is your product, price, terms, guarantee, and so forth?

My formula forces you to include the basic elements of a powerful offer. But you can't sell a dead duck. No letter in the world can sell a product that your target market doesn't want to buy.

Success Factor Three: Your copy -- This is third in importance. My software walks you step-by-step through the formula it took me 25 years to learn.

It's very powerful.

Finally, with the help of this software, I'm totally convinced you're going to whip out sizzling letters that follow all the steps of the formula.
There Are No Ongoing Fees.
Create as Many Letters As YOU Want!
You get unlimited access to this software when you own it for 5 years. So you can make as many sales letters for your personal business as you want, anytime you want.
Requirements to use software:
The Push Button Letters Software works with all versions of Microsoft Windows 95/98/ME/2000/XP and XP Pro, Windows 7 and Windows 8 Windows 10. ALL MAC's. The software requires an active internet connection as software utilizes a web database. This means you cannot use the software on an airplane or other places where an internet connection is not available.
If you would like to invest in a license which allows you to create unlimited letters for other businesses and clients, then purchase our "Business Licensing" software system. Click here for more information.
FREE $500 "Monster Marketing Course"
If My Sales Letter Software
Doesn't Pay For Itself In a Flash!
In fact, I'm so confident you'll whip out drop dead sales letters with my software that I make an astounding, balls-to-the-walls 90 day guarantee...

Use the software. Create a sales letter as instructed. Really go for it. Don't just go through the motions. Give it your best shot and energy.

Then post the sales letter on a web page like the one you're reading now. No ads. No banners. No crap or junk. Just your sales letter and an order link.

Then drive traffic to your site or email your customer list and give them a link to your new sales letter.

If you don't at least make back TRIPLE the cost of the software, i.e. $300 in sales of your product or service, then tell you what I'm going to do.

For a limited time only (and I could withdraw this any day now. I haven't decided how long to offer this promotion), give me the URL of the web site where your sales letter is posted and send me your web stats that prove you got visitors. A screen capture of your stats, email from your stats program or a login to your stats site will do.

IF YOU DO THAT, I WILL NOT ONLY GIVE YOU YOUR MONEY BACK BUT I'LL LITERALLY GIVE YOU A LOGIN TO OUR DELUXE AMAZING FORMULA $500 COURSE!
It's my Mercedes. It's a beauty.

I would never, ever offer to do this if I wasn't really, really confident that I have a powerful, innovative software product. That is how totally confident I am that this software is going to rock your world (and your sales.) Of course, I hope and pray you're honest and give the software and sales letter a fair chance to work on your behalf.
In addition, naturally, I also offer a standard, run-of-the-mill, 100% moneyback guarantee for 60 days. If you aren't happy with the software anytime in the 60 days, I'll give you your money back.
Here is the price and what you receive:
Back when I wrote for clients, I charged $5,000 to $15,000 to do a sales letter. Now, for a fraction of that, you can whip out your own sales letter using the same psychology I employed on behalf of my clients.

That's why I've decided to make the price $100.00 for individiual business use. That's affordable for most anyone. Yet enough to make people respect the technology.
What you receive for your money is digital access to the software online.
Why this product won't actually cost you a dime
You get my complete system, the complete online software system for only $100.00 -- SPECIAL LIMITED TIME DISCOUNT PRICE -- $57.00

The question is, is it worth 100 bucks to own a system for crafting ad copy that really sells your stuff?

You can easily waste 5 or 10 times that much money buying courses and products about ad copy that spout off a bunch of stuff that never really helps you.

You can easily waste that much money just trying out one or two sales letters that don't work.

You can easily lose out on 10, 20 or 30 times that much money by screwing around with marketing methods that simply don't work.

Don't you think you know at least a couple people who will buy the software after you show them the super cool sales letter you whipped up using it?
NOTE: PUSH BUTTON LETTERS IS INSTANTLY ACCESSED AND IS COVERED BY A MONEYBACK GUARANTEE.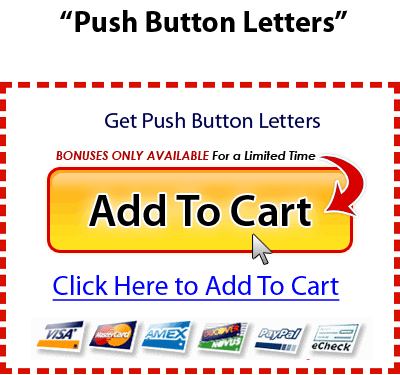 CLICK HERE TO ADD TO CART
(Special $57.00 Limited Time Price!)
Requirements to use software:
The Push Button Letters Software works with all versions of Microsoft Windows 95/98/ME/2000/XP, XP Pro, Windows 7 and Windows 10. You can use it on your iPad or mobile device.

The software requires an active internet connection as software utilizes a web database. This means you cannot use the software on an airplane or other places where an internet connection is not available.

If you're in another country and do NOT have a credit card, you can order by bank draft. Just write the words "Push Button Sales Letters" on a piece of paper and mail it to the address below. Please put the name or ID # of the person who referred you on a note with your bank draft. And include your shipping address, so I can mail you the software.
Make your bank draft out to: Higher Response Marketing, Inc.

Higher Response Marketing, Inc.
11844 Bandera Rd. #469
Helotes, TX 78023


Marlon Sanders

CEO - Higher Response Marketing, Inc.
http://www.marlonsanders.com

P.S. If you've decided not to order, click the play button below.
Please Note: If you come back to this page after the deadline, you may no longer see the extra bonus shown above.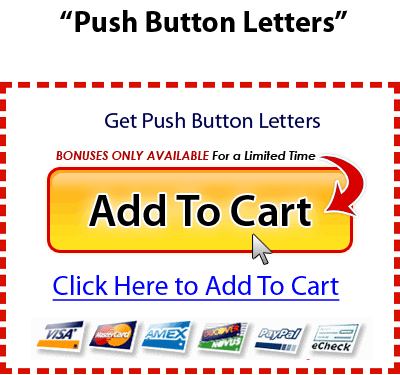 CLICK HERE TO ADD TO CART
What People Say about
Push Button Letters

"...this will make complete sense to you"

This will make it soooo easy for you to generate an effective killer sales letter. It's all laid out for you.

If you've read any of Marlon's other stuff, this will make complete sense to you.

Jon Keel
Improved-Results.com

"I love this product "

I love this product. Fill in the information and out comes a sales letter. It is so easy. Thanks for a wonderful product.

Sandy

"I have 10 2-page sites and will be using Push Button Letters to rewrite them"

Hi Marlon

just to say how pleased I am with push button letters its so easy and I like the fact that you can keep going back and changing it to make sure it flowes properly.
It certenly makes you think about what your writting.

I also have 10 2page sites and will be using push button letters to rewrite them, thanks again.

Trevor Shaw
Legal Information | Affiliates | Privacy | Support | Risk Disclosure